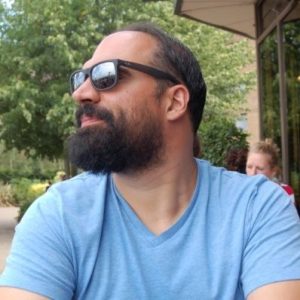 Myles is a Melbourne-based software engineer and product designer specialising in Ruby on Rails, JavaScript and mobile applications. He has worked on web apps ranging from small brochure sites, all the way up to high-traffic ecommerce sites and enterprise level mapping applications.
He has a strong interest in IoT development, in particular the ESP8266, the Thread protocol, 6lowpan and 802.15.4. He's currently automating his house. You can read about that on my blog: https://myles.eftos.id.au.
He's a co-author of "Build Mobile Websites and Apps for Smart Devices" (Published by SitePoint).
He has a strong community focus, having been a foundation member and Chairperson of the Australian Web Industry Association. He also ran the adhoc technology meetup: #mobilebeers, the Footscray Makers Lab Arduino night, and regularly attends Ruby on Rails Oceania Meetups, Start up Weekends, Melbourne CTO School and Rails Girls.
Presentations
Watch these presentations by Myles Eftos
Conferences
Myles Eftos has presented at these conferences