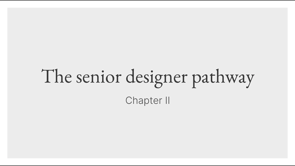 Hello.
I'm so excited to be talking with you about the leadership pathway for senior designers.
I invite you to follow along my social handle if you would like.
Let me start by sharing a story.
This comes from a very classic children's book, Alice's Adventures in Wonderland.
During the pandemic, I became a first-time mum, and one of our favorite things to do is read books together.
Okay, so my toddler isn't quite ready for literature, but we have been able to get into a few picture book versions, and this one still included the famous meeting between our protagonist Alice and the mischievous Cheshire Cat.
After tumbling down the rabbit hole, Alice continues her journey through Wonderland, and then the Cheshire Cat appears to her on the branches of a tree, and this is their exchange.
Alice Will you tell me, please, which way to go from here?
The Cheshire Cat that depends on where you want to get to.
I don't much care where...
Then it doesn't matter which way you go.
... So long as I get somewhere.
Oh, you're sure to do that, if only you walk long enough.
When we go through our design careers, there's often a moment or two when we face decision points, and like Alice, we're unsure of what the next step looks like.
We wanna reach out to and believe in the Cheshire cat, but maybe we need to find our own path forward as well.
Hi, my name is Lucinda Burtt.
I've been practicing design for 12 years, and about half of that as a people manager, growing strong teams and senior designers and helping them to become leaders.
I so wanted to be in person in Sydney, my hometown, giving this talk, but instead I'm in rainy Seattle awaiting a visa transfer in this time of tech industry.
I too feel a little bit like Alice tumbling down the rabbit hole.
But let's find some clarity; let's find our way through this talk is all about finding that path forward.
Illuminating the pathway for experienced designers who do their best work as an individual contributor, we'll get into definitions in a moment, but there'll be lots here for designers at any stage of their career who wanna know what progression looks like.
And shaping yourself as a design leader, thinking about how to increase your impact, as well as some info for people, managers like me who nurture and partner with designers to help them do the best work of their lives.
I made this talk because I really believe in and believe we need more senior designers.
So let's dive in.
Chapter 1, Why be a senior designer?
I wanna start with some definitions.
There's a bit of a baseline.
So I would describe a designer generally as a problem solver, and then in the context of UX design, using the design process to solve people's needs to make something useful and well loved by people.
An individual contributor, or IC, is a specialist.
They collaborate across functions and teams; they lead and influence and deliver incredible amounts of impact, but without directly managing others.
Throughout this talk, I'm gonna use the term senior designer to mean an experienced design specialist on the IC career track.
So let's look at how the path usually goes.
You begin as a junior; you are fresh out of tertiary study or college, or maybe you've been self-taught, and then you land your first role.
You begin to practice your craft, get to know your.
You are working really closely from your design team.
You're in awe of those other design peers, you join a bunch of meet-ups, and then you're amid either in the title or the scope of the role.
It basically means you can now be counted on to execute.
You're probably looking after whole product features and flows.
You continue to practice your craft.
You've learned how to present your work.
You start coming along to incredible design conferences.
You're beginning to partner with other functions like engineers and developers, product, data, research marketing, and you become a senior.
For me, it's about the scope and skills, not the title, and a lot of industry leading companies, junior, mid, senior, aren't even titles they regularly use anymore.
Everyone has a flat title like UX designer or product designer.
But when someone is at this level, when they've made it up to this level of experience, you just know it.
And I think of a senior designer as playing a pretty big role.
They know the craft inside out.
They can execute and deliver with minimal oversight.
They are practice storyteller.
They're beginning to understand how to use a presentation to influence stakeholders.
They've begun developing strategic instincts.
They've got really well reason, opinions about how to improve a product; that product thinking.
They're great partners; they're well respected by the team; and a sharpening their leadership.
They may even have an honorary title like Design Lead in their product space.
So I think sometimes designers get to this point and they go, Where are you from here?
I've made it to the senior level.
In companies I've worked in, we even consider this a career level, as in a designer is not required to progress up the ladder from this point.
If they don't wish to, they'll still be given projects of high-impact.
They'll be placed within really interesting teams and problem spaces that will benefit from their experience.
Lots of opportunities to deliver that in-product output and have a lot of influence within the design team, but they don't need to keep climbing the career ladder.
However, some designers do wanna keep climbing, and then there's this moment of, "Oh ohhh, should I become a design manager?" As a design manager, I definitely don't wanna say, "Don't do it.
Don't switch tracks." Because I found a ton of fulfillment in walking this path, but I mentor senior designers all the time, and it's pretty clear when someone is feeling the calling to begin supporting people; they've probably even taken steps.
Already start mentoring and coaching, thinking about how to deliver impact through others and not just themselves versus those designers that think, "Okay, this is my only way to set up the career ladder," because it's not.
At larger companies I've worked at, becoming a manager is actually a parallel career track.
Maybe it seems like a promotion because there's this positional authority baked into the role and there's this title of manager, but moving into management actually requires learning new skills and thinking about creative practice quite differently.
So here's the case for not becoming a people manager.
Yeah, because it is always something you can pursue later.
Remember, parallel tracks.
So craft depth and product focus, but probably the most important one is craft.
When I ask my peers who've stayed practicing as senior ICs, I hear them say all the time, the reason that they do it is, "I like making things." If you love the craft work of being a designer and you're great at it, please keep doing it.
Management can be a creative practice, but the output of work is just less tangible because it's about relationships and strategy.
Depth; you like having depth and specialization in your work.
Definitely, being a senior IC is a place and a way to do it.
Managers do a lot of context switching and often need to go broad to find that scale.
A product focus rather than a people focus, so that ability to actually make decisions and transform products.
Managers spend a lot of time thinking about coaching, unblocking, arranging, connecting, doing a lot of meetings, and all those things that help a design team deliver great work bar the actual designing.
And the honest truth is that we, the industry, need senior, experienced, seasoned IC designers, and there's plenty of ways to still think about yourself as a leader, and those leadership responsibilities.
Management's not the only path.
You're also gonna still need some of those people skills, and you'll be using them.
As you get more senior, actively participating in and building design team culture will be a key to your success.
And being more senior is gonna also bring some new challenges.
It isn't just about doing the same work, but better.
And we'll get into that a little bit later.
But yeah, something to be real about is that the super senior IC path is something that the industry is still actively forming.
In many ways, I think that's exciting because super senior designers are actually creating their own roles, titles, and scope.
I also think that there's been a bunch of progress in large industry-leading companies, so let's look at that and look at some of those titles that are emerging.
Chapter 2, The Senior Designer Pathway.
We're gonna cover where the pathway can go and really start breaking down some of those step changes.
As I mentioned before, the industry has favored generic job titles for a while.
It really helps keep hierarchy flat.
It promotes equality and better decision-making, like good decisions can come from anywhere, but as designers get much more experienced and begin to take on org-wide impact as opposed to just product-level impact, there are titles emerging to recognize the skill scope and the role that the senior IC is playing.
So we've got to take a bit of the confusion out of it because these titles, there's a lot of them.
Uh, it really matters more what the key level differences are.
I love this, you know, kind of throwaway comment from Shane Allen, a very senior IC designer formerly of Airbnb and Messenger, and now at DoorDash.
So I'm gonna help us work out, okay.
What do these things actually mean?
But more importantly, how is that scope and that role and responsibility changing at each level?
We've already spent a bit of time setting the baseline of what it looks like when you become a senior designer, when you've got a bit of that experience under your belt.
So let's start looking at where it goes from there.
The next step is becoming an experienced partner, influencing both design and pushing the whole product forward.
The Staff Designer has become a title to recognize this role, and almost always people refer to this designer as a lead, a design lead.
The designer will be delivering some hands-on product work but also guiding less experienced design team members, defining a strategy with the product team, working closely with partners, and really setting up their team towards execution success.
A designer at this level is likely reporting to an experienced design manager.
Senior Staff Designer builds on top of this to blend deep creative skills with leadership.
At this level, they're also leading initiatives to help all teams within a product group, as well as being fierce design team culture builders.
Designers at this level will be regularly interfacing with leadership, delegating work to junior team members.
They know how to push back and allocate their time for more and more forward-looking work.
A designer at this level is likely reporting to a senior design manager or a head of design.
Principal or an IC Director is about a much expanded scope, impacting a whole org with multiple groups and products.
They're frequently facilitating vision initiatives, maybe handpicking their own crack team of senior staff designers from across an org.
They are central to pitching new product visions to VPs.
A designer at this level is part of the leadership team, and they're likely reporting to a design director or a group head.
The path beyond this point is still being defined by the industry.
A designer at this level is raising the bar, not just for the company but the whole design profession.
This type of designer has become known in their field.
They're providing thought leadership, and they're often gonna inspire others to actually come work with them to fulfill the company mission.
Some may even use the title "director," and I have seen distinguished fellow really starting to gain traction.
A designer at this level is likely reporting to a VP or even the C-Suite.
We need senior designers in leadership, and as they begin to play these leadership roles, they show us how to raise the craft bar, show us what quality looks like, really drive teams and orgs to get to those solutions to some of the trickiest problems.
So let's move into Chapter 3, the senior designer as.
Leadership begins by increasing your sphere of impact.
And I wanna set some sort of foundations for what this looks like.
And this is buildable based on which level you're already in: learn the business you're in, uplevel your design team, develop your cross-functional relationships, and take on work of increasing ambiguity.
So learning the business journey will look like learning some of that business acumen but also thoroughly understanding how your product works.
How can you use design to create business value?
Moving from a senior to a staff lead level and beyond will require you to scale yourself; time management becomes so key, and one of the simplest ways to do this is actually by beginning to up-level others around you.
So look for opportunities to up-level your design team and practice.
Mentor that next batch of Rising Stars: teach core competencies like prototyping or design sprint methodologies.
Think about how you shape team culture and rhythms in partnership with your manager.
Hone your relationship-building skills, particularly so that you can input into those cross-functional decisions.
The more senior a designer is, the more they become a product leader, and they need to work across those functions at higher levels.
And as you're ready up for it, take on that gnarly work of increasing complexity and ambiguity.
Define a vision using design methodology to provide clarity, shape strategy, and most importantly, influence team roadmaps.
Impact is something you'll work towards gradually.
Really, Wise words from Mia Blume, a design leadership coach formerly of Pinterest, Square Audio, and now the CEO of Design Department.
So keep your expectations in check, but don't be discouraged.
It's a known fact that moving up levels later in your career takes longer than when you first started, and that applies for both senior ICs as well as managers.
And what got you here won't get you there.
It's a cliche, but it's true.
Archetypes or shapes of senior designers can be useful as you look to how to brand the type of designer you wanna be and gravitate towards the kind of work that you find the most fulfilling.
Of course it's really great to be well rounded, but I've actually seen that designers who brand themselves and really present the kind of senior designer they are really set them up for career success, and it connects them to the type of org impacting projects that they're actually best suited to.
In my time working with senior designers, here are some of the shapes I've seen, some of the core shapes.
Visionaire, connector, creator and generalist.
And I wanna say that these aren't mutually exclusive.
In fact, a senior designer might be a healthy blend of a couple of them or sit very comfortably as a generalist.
But let's look into where where these shapes form and the kinds of skills that designers begin to hone.
Visionaire.
Imagining what might be, I've seen the Visionaire step up when a team or org needs to find a clear north to guide them forward and really motivate the whole team to get there.
They excel at shaping vision.
They know how to get from here to there, but they're also very good at bringing others along and pitching to stakeholders to help them invest in ideas.
The skills that they're building are around storytelling and methodologies for answering questions through design.
The Connector is a systems thinker at heart.
They can connect the dots and link strategy with execution.
I've seen the Connector flourish when it's comes time to build bridges between design, engineering, and product and set really clear expectations with product partners on what success looks like.
The Connector can wrestle with complexity.
They're strong in product strategy and execution delivery, and the skills that they're honing are around product thinking, systems thinking, and those tech, those methodologies for simplifying the complex.
The Creator really sets the bar for excellence.
The Creator is a designer, designer, a maker that will bring brand new ideas into a tangible form.
I've seen the Creator excel when redefining a product experience with a sleek prototype that is necessary to sell the idea into VPs.
They can devise new frames of reference, things that have never existed before and deliver close to as flawless execution as can be.
So they spend time polishing those high-craft and prototyping skills, and they're often a bit of a technologist and quite forward-looking.
The Generalist has broad mastery of expertise.
They thrive in various problem spaces.
It's all about that variety.
They're highly adaptable and multi-skilled.
They can influence team strategy and roadmaps, develop strong product recommendations, deliver high craft artifacts.
And their mastery of a flexible design process, means a generalist is often the backbone of a strong design practice, and they may be tapped to train others.
I've worked with Generalists that may be running and leading a design sprint one month, then developing new team training on prototyping tools the next month, then shipping a new product.
And this variety really motivates them; it doesn't drain them.
So how to find your senior designer's shape?
You may have heard of the Japanese philosophy of Ikigai.
And as I understand Ikigai, this is that particular intersection of passion, talent, and potential to benefit others.
So here are some questions you could ask yourself: What do you enjoy?
What are you great at?
What does your team need, and what does the business want?
So this framework can be used to help you think about what shape of senior designer you are and then overlay that with a mapping of what your team and business need to find the sweet spot to move towards.
And I wanna take a moment here just to talk about the parallel career tracks between being a manager, more people focused and being a senior IC, more product-focused.
As you become progressively more senior, some of those responsibilities and influence is gonna overlap with your managers.
So keep in mind that they're on that parallel track.
They're not necessarily your superior, and they can be your biggest asset In finding ways to land and scale your impact.
One of the things you can do is make your manager your peer.
As I've worked with increasingly senior designers, these are some of the guideposts I bring into our discussions.
Define roles and responsibilities.
Have a career plan and regular check.
Give feedback both ways, and partner and be open.
We embrace the messy overlap.
We define roles and responsibilities so that we're using our strengths, but also thinking about those opportunities for impact.
Who's regularly leading design career?
Who's the best person to lead this design?
All hands.
We divide it up.
We commit to creating an honest career plan, so I have clarity about where they wanna get to, and I can be looking out for those opportunities.
They can then begin to demonstrate that they're ready for that next level.
We have regular check-ins and ensure that we're on track.
We give feedback both ways.
It definitely helps me to improve and I wanna create regular space to be candid so that I can help them to grow.
We partner and I commit to keeping communication channels open.
I back channel anything that isn't HR sensitive, information can be power.
And for a senior IC.
I see it can really help decision making and speed things up, particularly in a large, complex organization.
Okay, we've covered a lot in the last 20 minutes or so.
So I wanna share a few parting thoughts and I wanna take us back to our protagonist Alice.
She follows her curiosity to make it through Wonderland.
She outwits the mad Hatter, she confronts the red queen and prevents her own beheading.
Where others are driven by ego and following the rules.
She shows that she is adaptable, flexible, and open-minded.
She finds her path through.
I think we need more creative problem solvers like Alice.
I hope I've convinced you that we need senior designers.
We absolutely need senior design ICs to help the profession to move forward.
Progressing in your design career doesn't mean you need to become a people manager if you don't want to.
There is a pathway and an industry beginning to embrace, celebrate, and grow senior design ICs.
We need senior designers in design leadership, in those leadership roles to really bring that unique experience.
They have to shape on the ground design practice to show what high craft and precision execution looks like to push forward new design vision.
And to really advocate for the power of design.
Ultimately, we need senior designers of different shapes and core competencies to solve the variety of design problems out there.
Thank you for your time with me today.
I'd love to keep the conversation going, whether that's on social or another channel.
Feel welcome to reach Out.
What a privilege to have been a part of Web Directions 2022 on the design track.
Thank you.
The leadership pathway—for senior designers
Web Directions
Dec 1, 2022
Painting of the Cheshire cat and lice in wonderland.
Alice: Will you tell me, please, which way to go from here?
The Cheshire Cat: That depends on where you want to get to
Alice: I don't much care where...
The Cheshire Cat: Then it doesn't matter which way you go
Alice ...So long as | get somewhere
The Cheshire Cat Oh you're sure to do that, if only you walk long enough
Your speaker
Design leader, and—
Born in Sydney
Embracing #hikinglife in Seattle
Mum to a chatty playful preschooler
Design is me, 12 years and counting...
Why be a senior designer?
Chapter 1
Some definitions to get started
Designer
A solver of a specified problem, using the design process to make something useful and well-loved by people
IC
Individual contributor, specialist, collaborate across functions and teams, lead and influence without managing others
How the design path goes...
A wavy line goes up to the right. First point is labelled 'Junior', the next "Mid".
A senior designer
Knows the craft
A practiced storyteller
Strategic instinct, product thinking
Great partnership, sharpening leadership
How the design path goes...
Our path from before continues. Up agan until "Senior", Te solid line then becomes dashed and loops around before ending in the "shrug" emoticon. A line labelled "career level" pointing oto the right extends from the point labelled "senior".
How the design path goes...
Our path from before but stopping at Senior. A gap from here to a dashed line is labelled "track change". From there a dashed line extends to the right. It's labelled "Manager?!?".
The case for not becoming a people manager (yet)
Craft
You get most energized by making things
Depth
You like having depth and specialisation in your work
Product-focus
You aren't as eager to coach, unblock, arrange, connect
The honest truth
We, the industry, need senior designers
Management is not the only path to leadership
You will still need those people skills— and to use them
Being more senior doesn't mean doing the same work, just better
The senior IC path is still new to the industry, particularly at the Director and VP-level of a large company
—Lily Konings
The senior designer pathway
Chapter II
Where can the pathway go?
Our path from earlier. It leads to Lead/Staff, Senior Staff, Principal/Director, Distinguished Fellow.
One of the most frequent questions | get is 'what the f@#k is a Staff Designer?'
—Shane Allen
Getting to know the pathway
Lead / Staff
Designer Experienced partner, a lead
Senior Staff
Designer Strategic lead across product areas
Principal / Director
Impacting whole org, multiple groups/products
Distinguished fellow / Director
Raising the bar for the company, industry
We need senior designers in leadership
The senior designer as leader–Chapter III
Increasing your sphere of impact
Learn the business you're in
Uplevel your design team, mentor
Develop your cross-functional relationships
Take on work of increasing ambiguity, complexity; define a vision
Impact is something you'll work towards gradually. Manage your expectations— it takes time to build up the skill and experience required
—Mia Blume
The shapes of a senior designer
Visionaire
Imaging what might be
Connector
Systems thinker at heart
Creator
Sets the bar for excellence
Generalist
Broad mastery and expertise
Visionaire
Imaging what might be
Excels at shaping vision, plot a path to get from here to there
Can bring others along, pitching to stakeholders to invest in ideas
Skills: storytelling, methodologies for answering critical questions through design
Connector
Systems thinker at heart
Can wrestle with complexity, tackle deeper problems for more effective solutions
Strong in product strategy, execution and delivery of product solutions
Skills: product thinking, methodologies for systems thinking / simplifying the complex
Creator
Sets the bar for excellence
Creates things that have never existed before, devise new frames of reference
Close to as flawless execution as can be
Skills: high-craft and prototyping skills, forward-looking technologist
Generalist
Broad mastery and expertise
Thrive in varied problem spaces, highly adaptable and multi-skilled
May be tapped to train and coach others, build practice excellence and process
Skills: broad mastery in design process, can help others acquire their knowledge
Finding your senior designer shape
What do you enjoy?
What are you great at?
What does your team need?
What does the business want?
Two 4 sided polygons are inscribed in a circle. From the top left clockwise are the following labels "vision", "craft", "process", "execution". The connection between "vision" and craft is labelled "what I enjoy", the connection between "Craft" and "process" is labelled "what the team needs".
The parallel design career tracks
A repeat of our solid path from before. Additional labels are attached to each stop. "LEAD/STAFF" has "MANAGER". "SENIOR STAFF" has "SNR MANAGER / HEAD". "PRINCIPAL/DIRECTOR" has "DIRECTOR / GROUP HEAD" and "DISTINGUISHED FELLOW" has "VP / C-SUITE".
Making your manager your peer
Define roles & responsibilities
Have a career plan and regular check-ins
Give feedback both ways
Partner and be open
Epilogue–Parting thoughts
Alice back from Wonderland sits by the bank of a river, beside a woman reading a book, stroking a black cat.
We need senior designers - there is a pathway
We need senior designers - of different shapes
Thank you -let's keep talking
Web Directions
Dec 1, 2022